To celebrate its 75th anniversary, the Maison Balmain and its "creative" director Olivier Rousteing decided to do some sort of presentation on a barge on the Seine with fashion show, singer and dancers, to which everyone was virtually invited to watch live exclusively on Tik Tok. Press-releases with pompous announcements were massively distributed to the press about THE MOST WANTED Parisian event just before Haute Couture fashion week.
And many media actually published this announce about an "exceptional" event in Paris, which will be watched by thousands people, as it was created by "a great young designer, who's reinvented fashion" (press-release).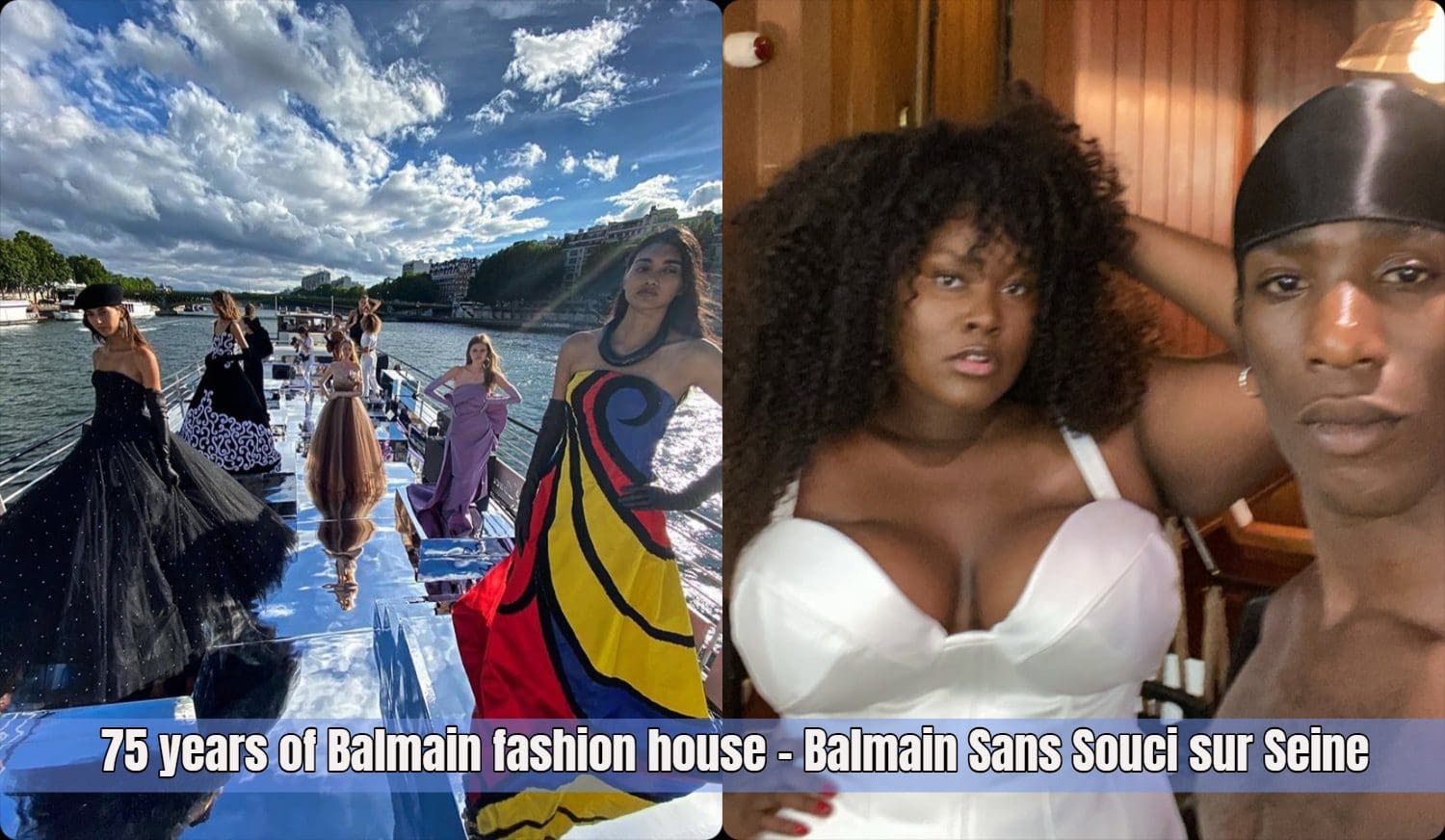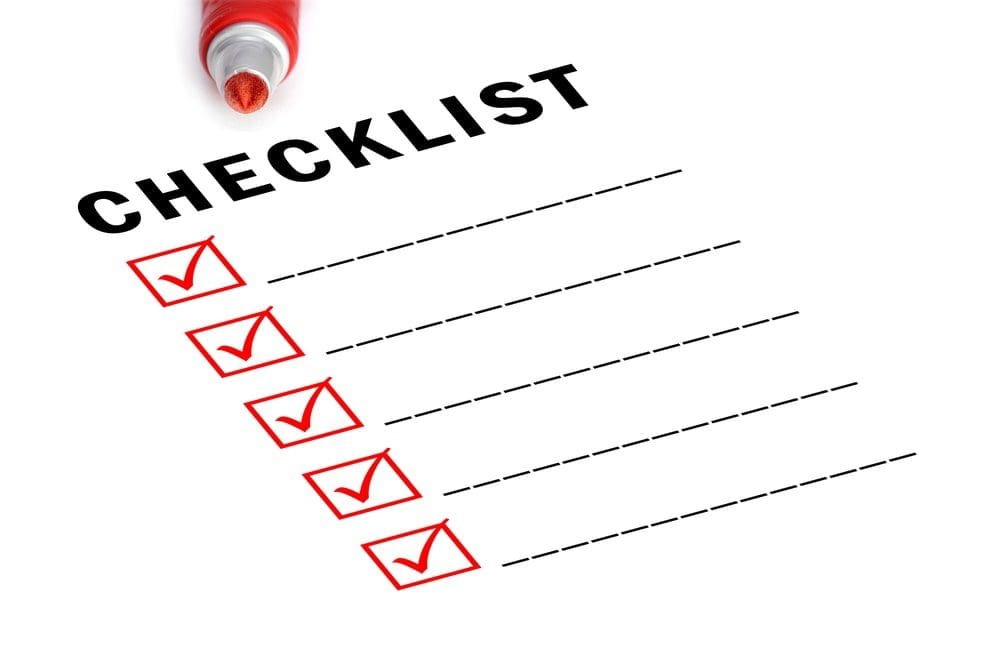 Well…. Let's do the "check list", shall we?! This pompous event celebrating 75 years of Balmain fashion house was suppose to go alive, "for the first time in the history" on a barge on the Seine, watched by thousands of people in Paris and online…. And…. let's try to see how it'll go…. still trying…. couple of hours later still trying…. and this LIVE event didn't go! No broadcast or anything were actually held on Tik Tok!

Check!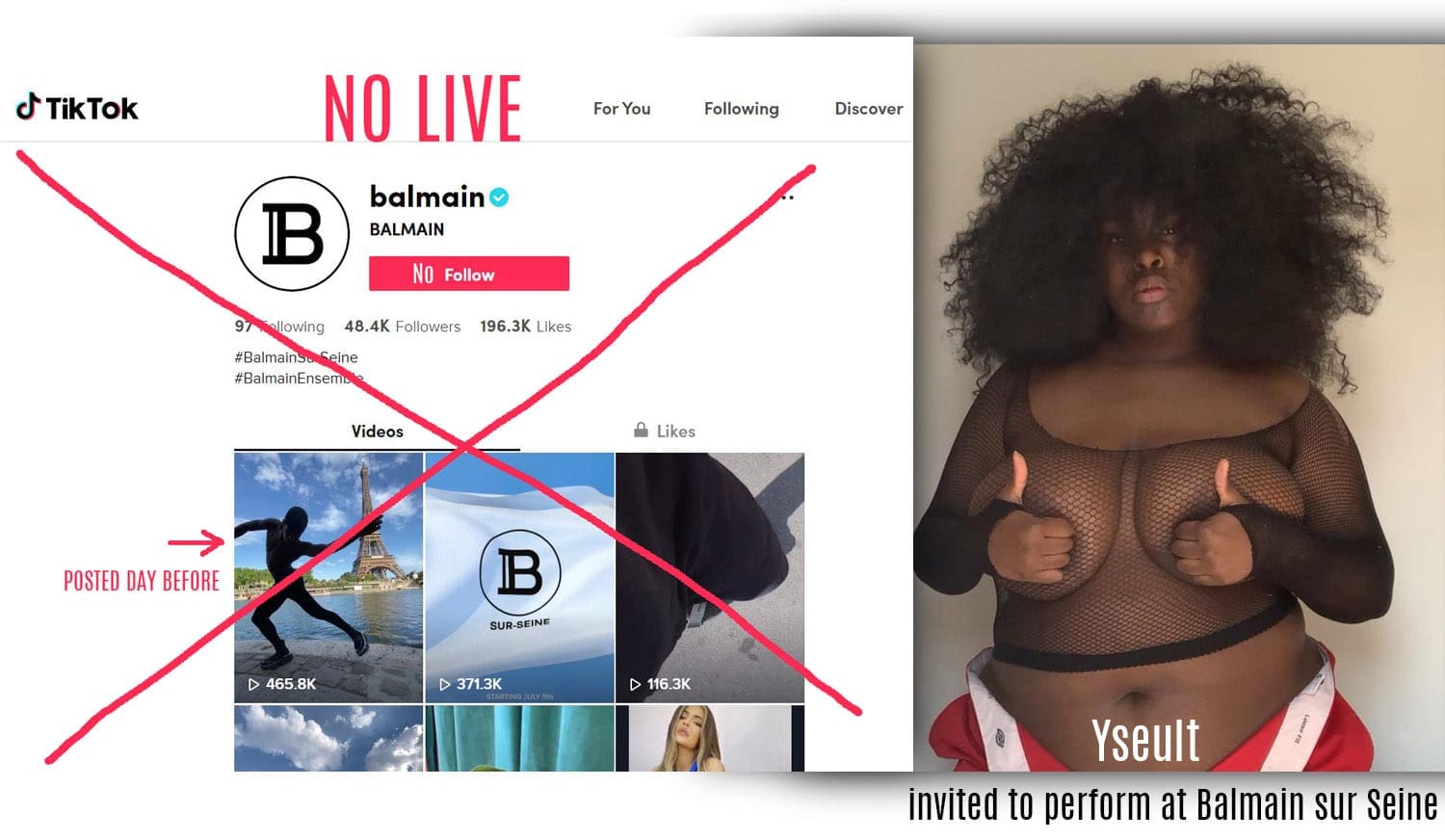 Olivier Rousteing choose a very famous barge called "Sans Souci" , "No Worries" on English. One would think that it would be a big boat or barge, the way he announced it. Well, we all know and love this barge, as it is the one of the coolest and not expensive places to held some family anniversaries, or small company events. This barge can handle about 50 people. And yes, it is a very small barge. Many Parisians celebrated grandparents anniversaries on this barge, or small companies their events. We did too.

Check!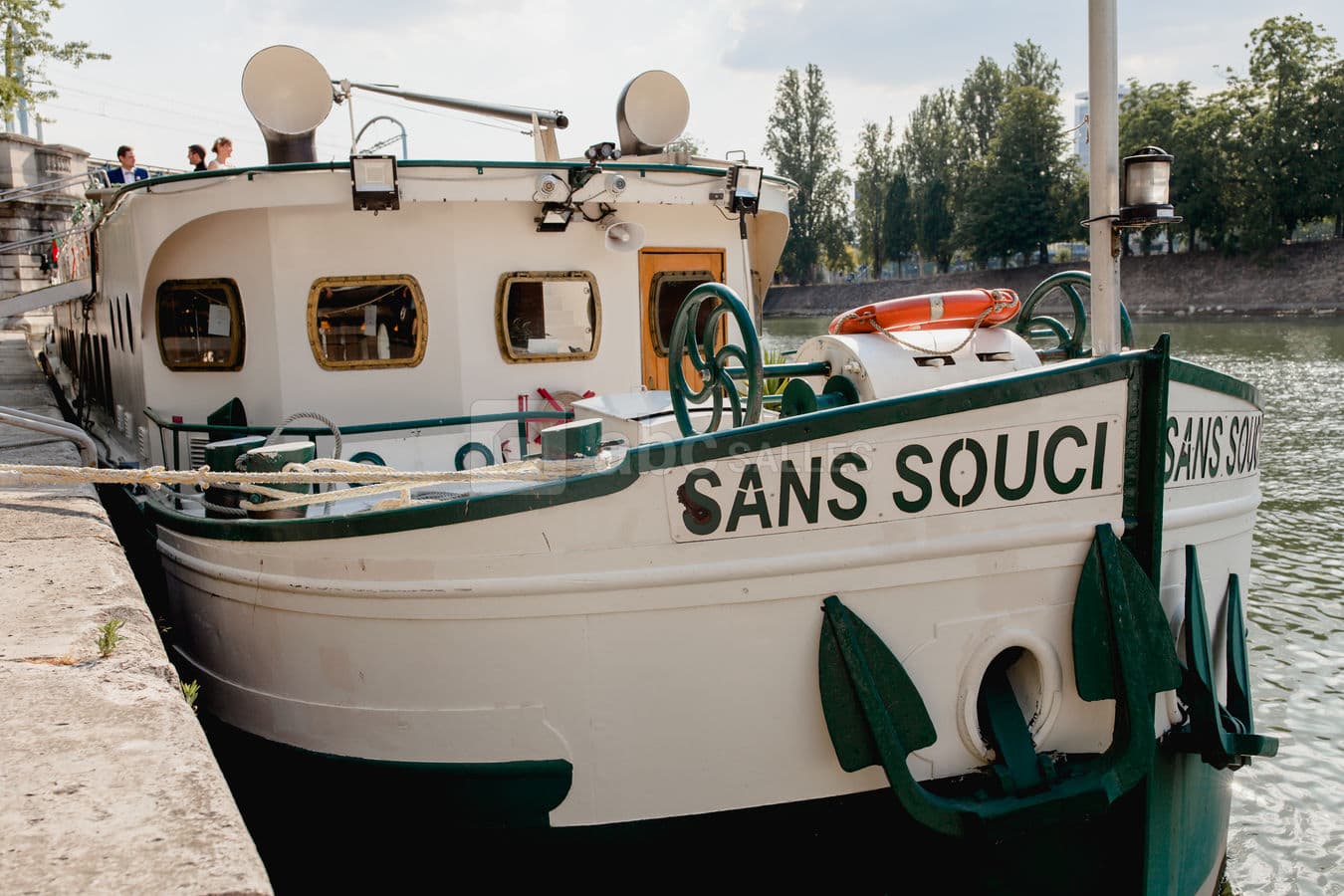 This 75 years of Balmain fashion house announced under sign "Black lives matter". One good thing that at the last moment Olivier Rousteing decided NOT to relate fashion house and social conflict. This time as Balmain was not able officially present the collection during this Haute Couture digital fashion week Olivier Rousteing decided to blow up Paris evening before July 5, 2020 with the "Balmain sur Seine" or better "Balmain Sans Souci", which would be on English "Carefree Balmain" boat show on Seine. According to distributed press-release and interviews Olivier Rousteing basically doesn't care about current situation, social distancing and this sort of things related to pandemic. It is indeed carefree.

Check!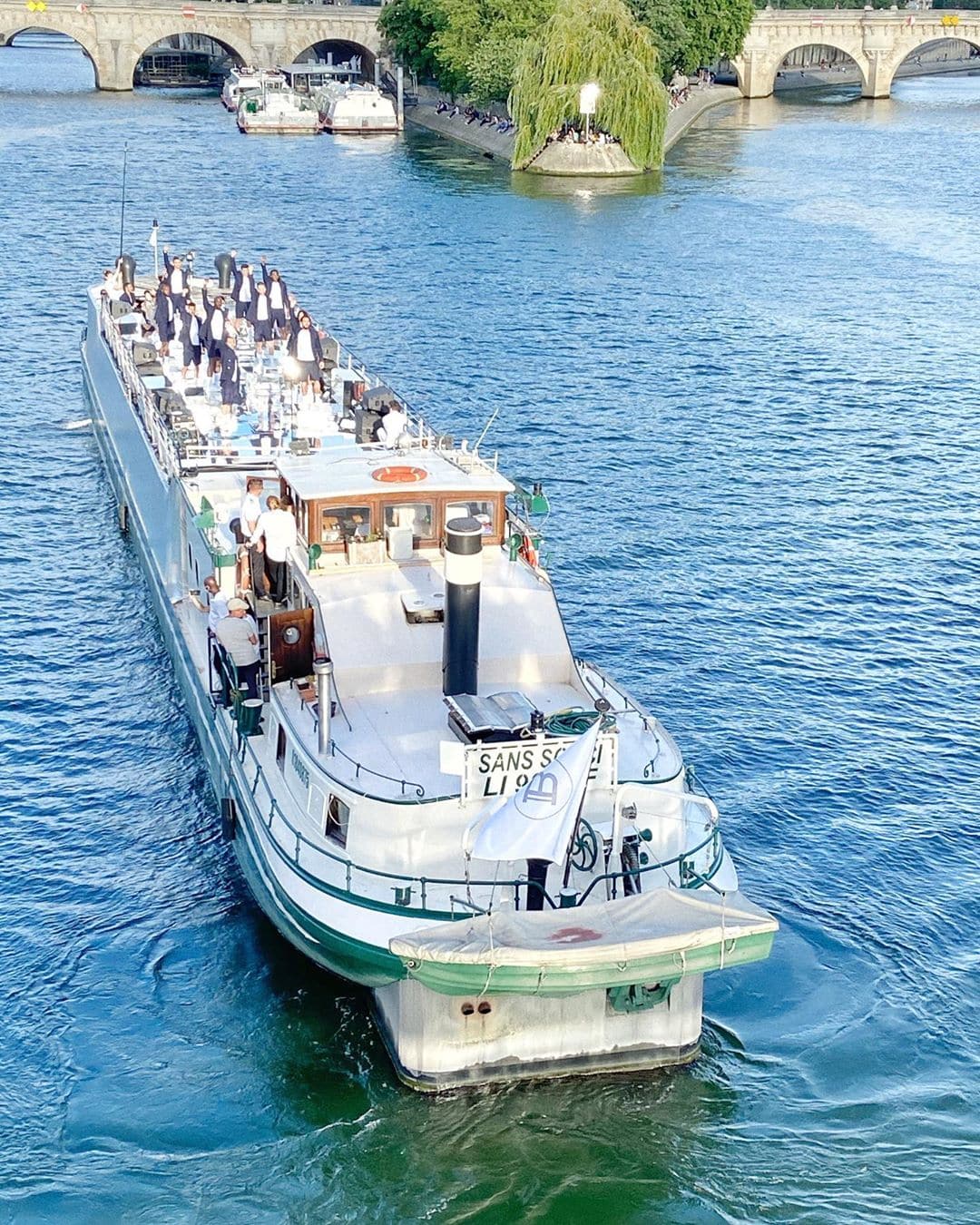 "A barge is to cruise down the Seine River on Sunday evening, giving anyone gathered on the banks or pedestrian bridges a view of vintage couture and other fashions, a mini concert by French singer Yseult, and a surprise dance performance", – announced WWD in another opulent, and apparently very expensive, tribute to Olivier Rousteing, in addition to recently published. "It's important to reinforce who we are and what we're known for," Olivier Rousteing said in his interview to WWD.
So good for the reinforcement. Balmain fashion show was actually a show of 12 models (counted myself) presented couple pieces from Pierre Balmain and Oscar de la Renta, and then mostly Olivier Rousteing. Madame Figaro wrote: "The singer Yseult dressed all in white offers a concert, framed by a dozen models taking turns on mirror squares." Good thing that Sabrina Pons, who wrote this "journalistic piece", also counted – yes, indeed 12 models! Although with the concert… that is a big word! It was just couple of songs, and then when models left dozen of dancers took their place with a little performance.

Check!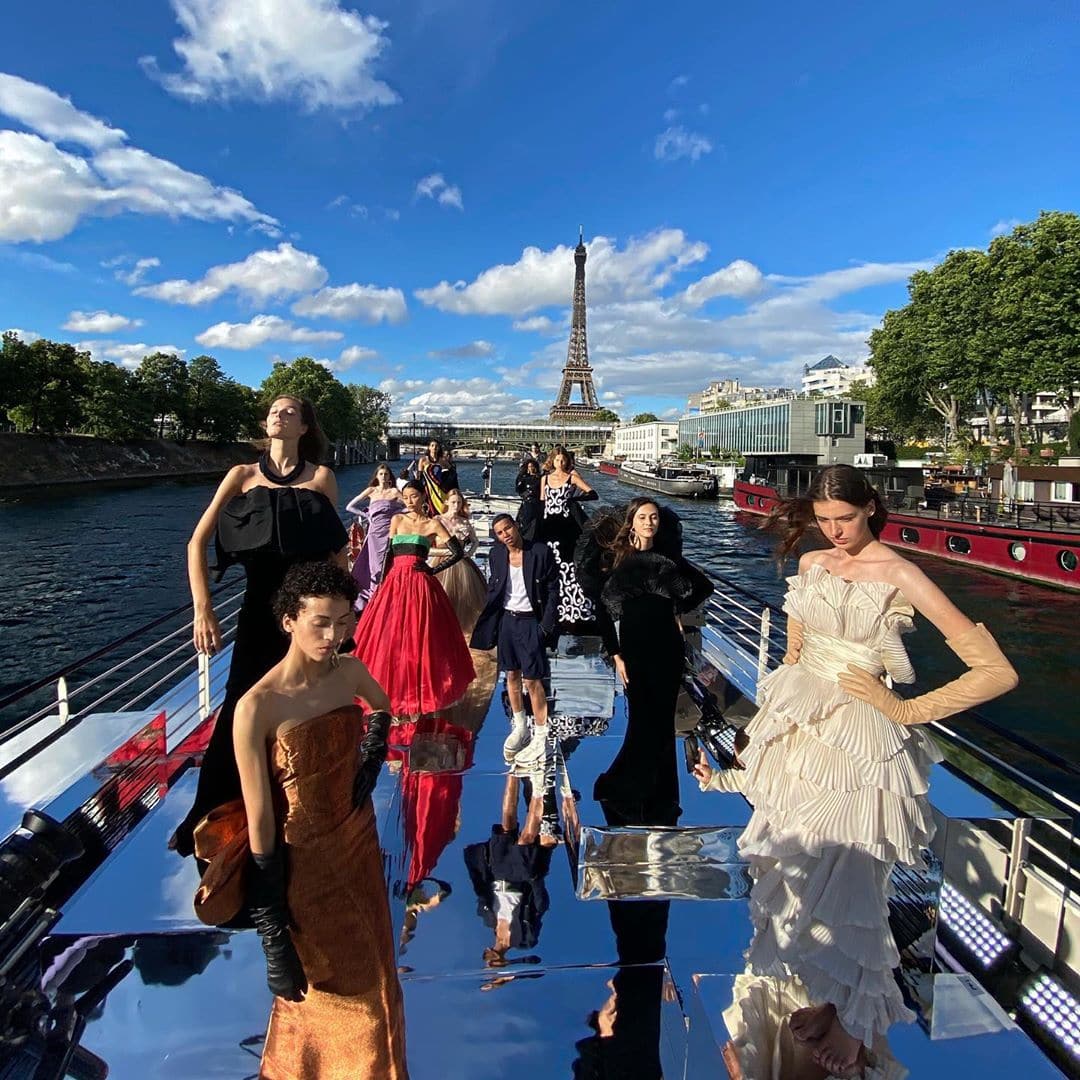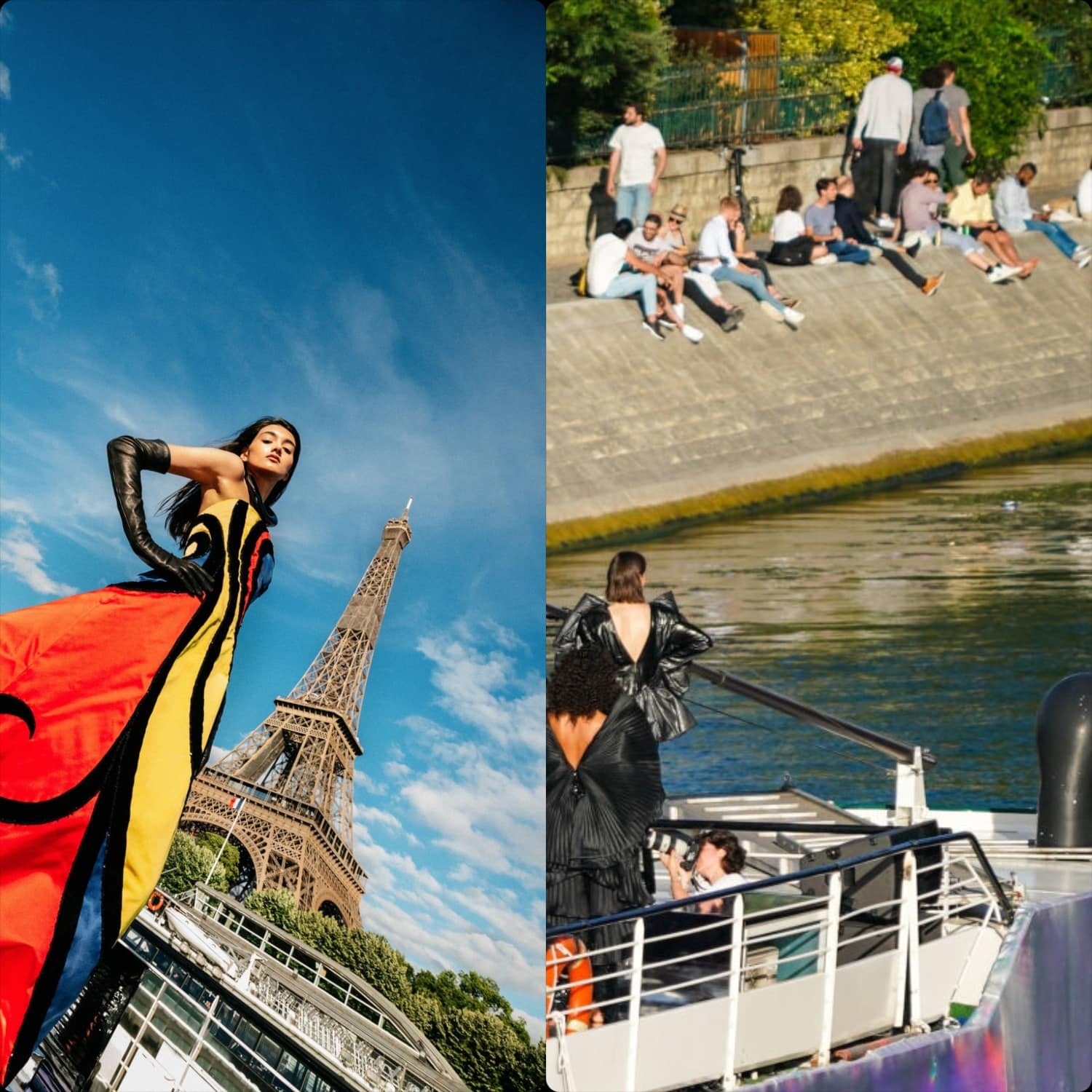 Sabrina Pons from Madame Figaro continues "around the Eiffel Tower, Parisians – warmly invited by the artistic director to go to the banks to follow the event…" Well from the looks of it, no one actually knew or cared about the event, no matter for how long Olivier Rousteing was bragging about this event to his "millions and millions" (purchased) followers on his social media networks and press. People who came to the banks of Seine to have some sun a the late Sunday afternoon didn't have much interest, and no one was using their mobiles to take some photos! Did she really see some crowds who came to see the Balmain boat show celebrating 75th anniversary of the house? Did she see anyone taking pictures?! Anyone?.. Maybe on the bridge?.. No one?! How come?!!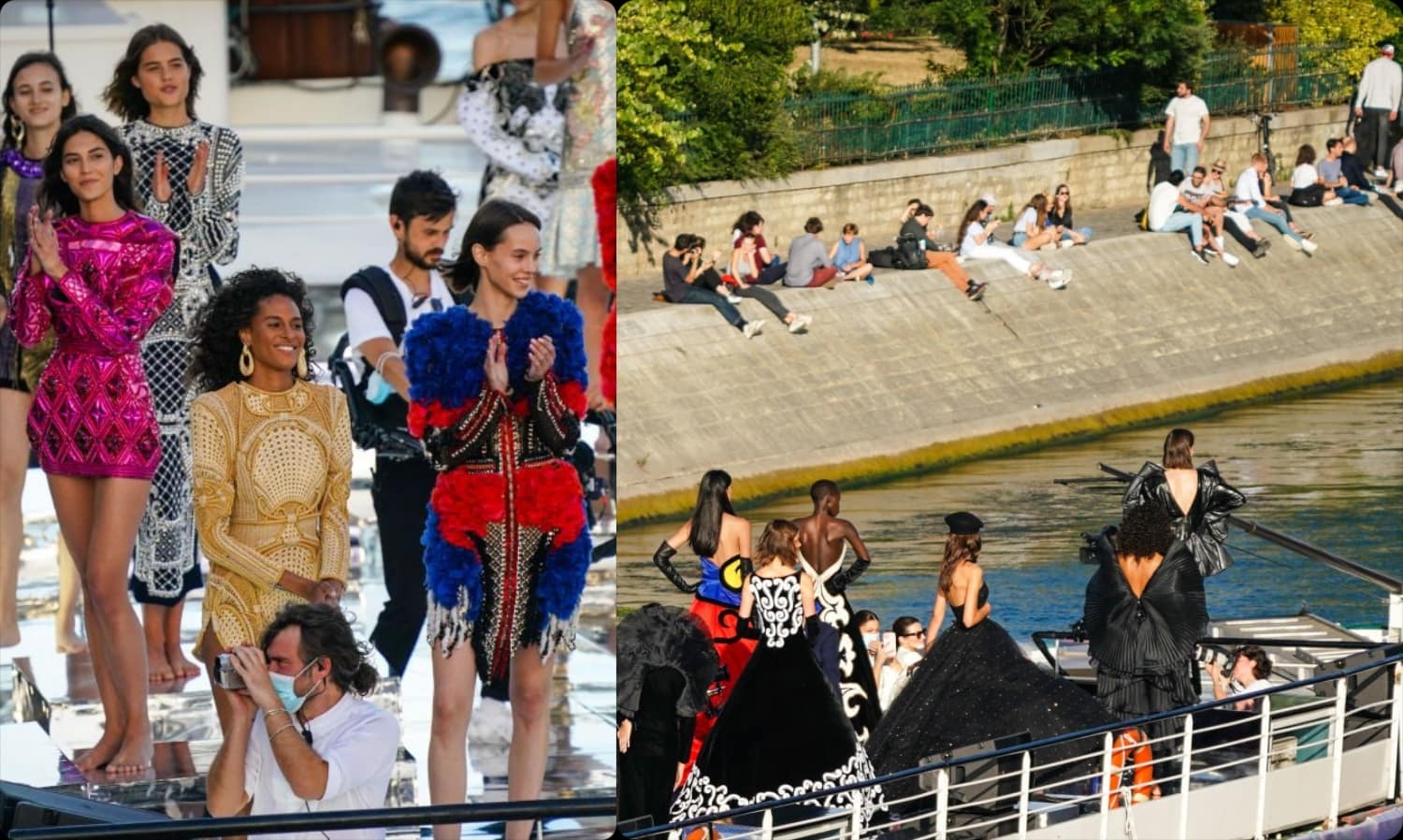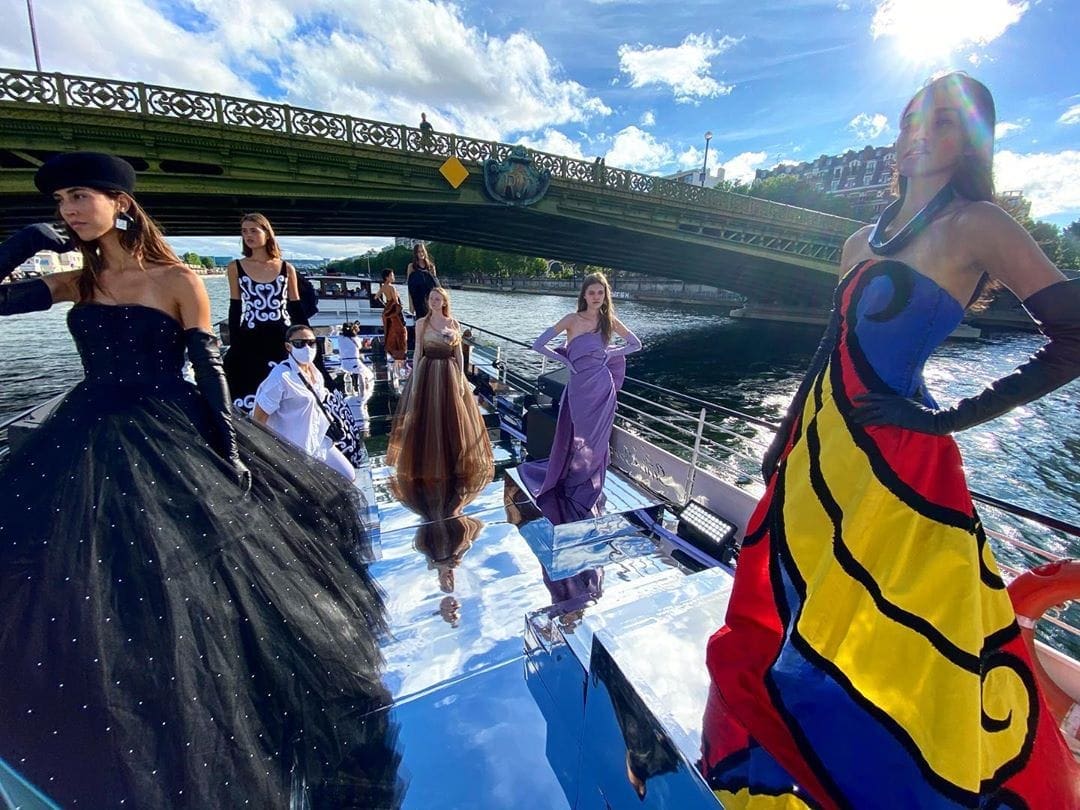 Check!
"The other and immense majority of spectators (several tens of thousands of people) can be found behind the screens,"- wrote Sabrina Pons from Madame Figaro. Nope!!! No one!!! Nada! No one was behind the screens, no LIVE Tik Tok! Didn't she knew that?!!!
And I was also wondering how these kind of articles can be actually published in such respected media like WWD or Madame Figaro? Ok, paid articles… so that's it, hah?! We publish any false and mind-numbingly stupid "journalistic pieces"? I remember the times when Madame Figaro was writing very sharp and quiet unpleasant for the fashion house critics, with disregard that fashion house paid very expensive price for this article. Am I getting old? Or experts and real journalists got fired? Or perhaps it is a time to recheck the staff?.. Although here, this is not my place to say "Check!"
And for the big finale… It was really hard to find some posts and photos about 75 years of Balmain fashion house – "Balmain Sans Souci" on Seine. Couple of bloggers on Instagram posted few photos and videos with 200 followers, and happily shared on Instagram by very emotionally moved by this historical moment Olivier Rousteing. That's all about it!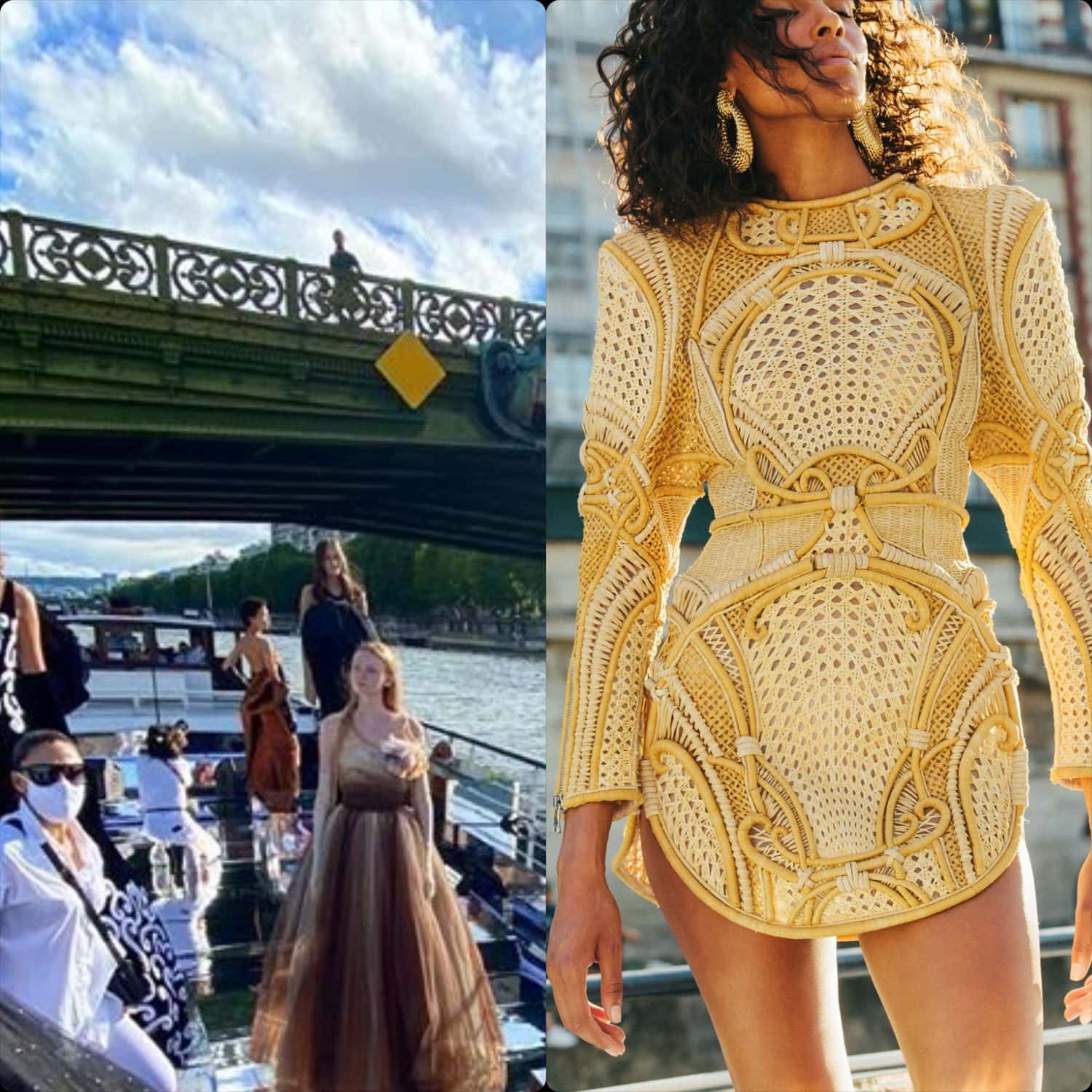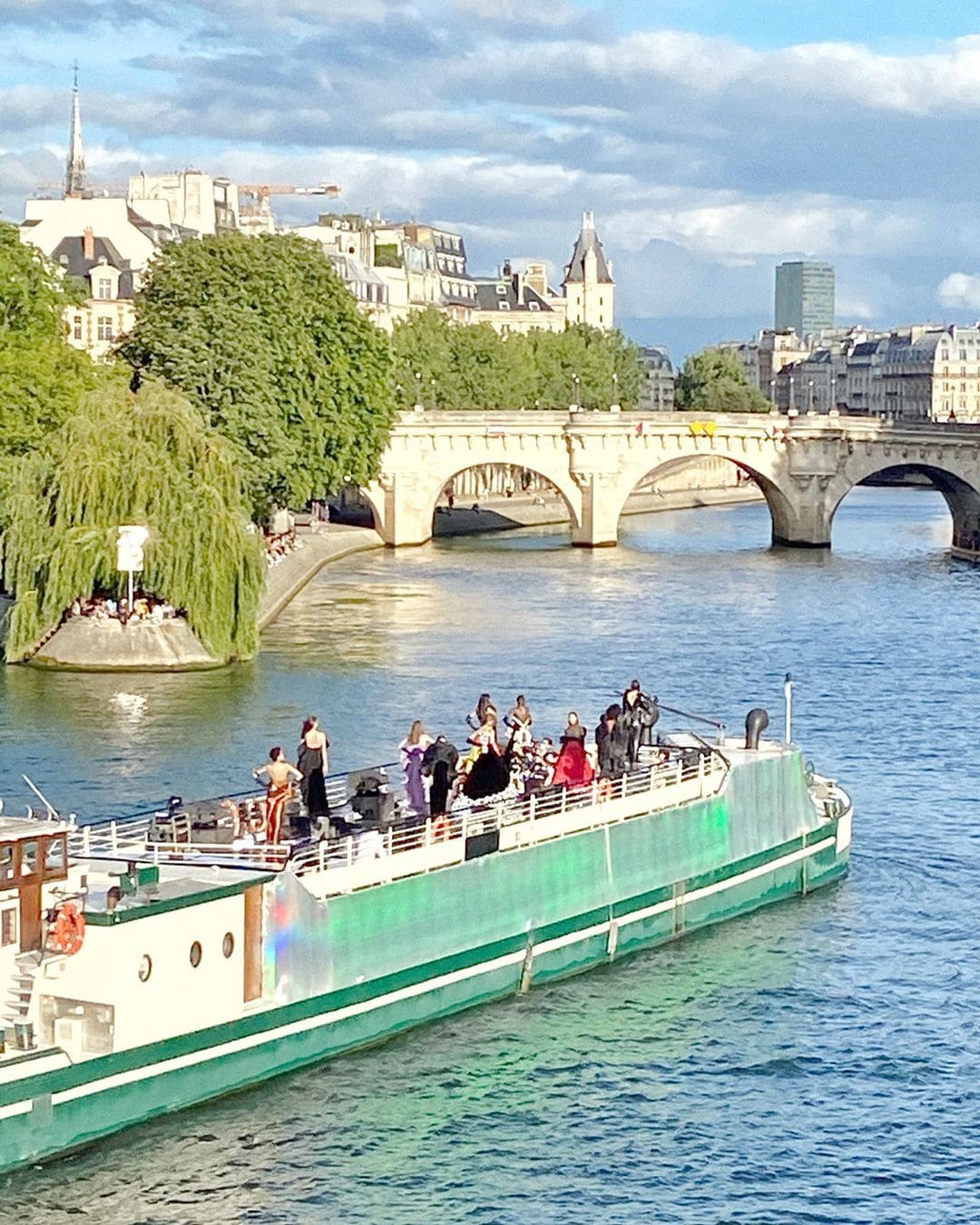 Happy anniversary, Balmain!
Eleonora de Gray, Editor-in-Chief RUNWAY MAGAZINE