Louis Vuitton Fall Winter 2023-2024 Menswear. Story by Eleonora de Gray, Editor-in-Chief of RUNWAY MAGAZINE. Photo Courtesy: Louis Vuitton.
Fabulous and artistic story has been told by a group of creatives. Louis Vuitton keeps this new tradition. See all close up and details of this collection HERE
Oh… Wait a minute, even though it wasn't in the Press-Release we got it a day later, this collection was actually made by a New Yorker Colm Dillane, owner of the brand KidSuper. Who also presented his collection (sort of) during this fashion week in Paris. It was indeed a "total shitshow", as some said, filled with rude, crude, filthy and bad jokes. "There were fat jokes, cocaine jokes, gay jokes, Black jokes, women jokes, diversity jokes, French jokes, Italian jokes, Balenciaga jokes and many, most especially nasty KidSuper jokes." (Luke Leitch)
Was anyone really laughing?… Many left… 1500 people were waiting on the street for more than 2h at -1C. Some "guests" started to throw the bricks in the windows of the Casino de Paris (Theater) where the show was supposed to take place… Police came…
Shitshow and Police sirens welcomes New artistic director of Louis Vuitton Men – Colm Dillane, KidSuper. Let's imagine that every Louis Vuitton show from now on will be just another drunken, vulgar, rude, crude, and filthy shitshow… Good buying, everyone! So this is a new cultural institution of Louis Vuitton???!!!!
Talent is not everything. Human values are more important, if there's a choice given. And specially when it comes to luxury brand.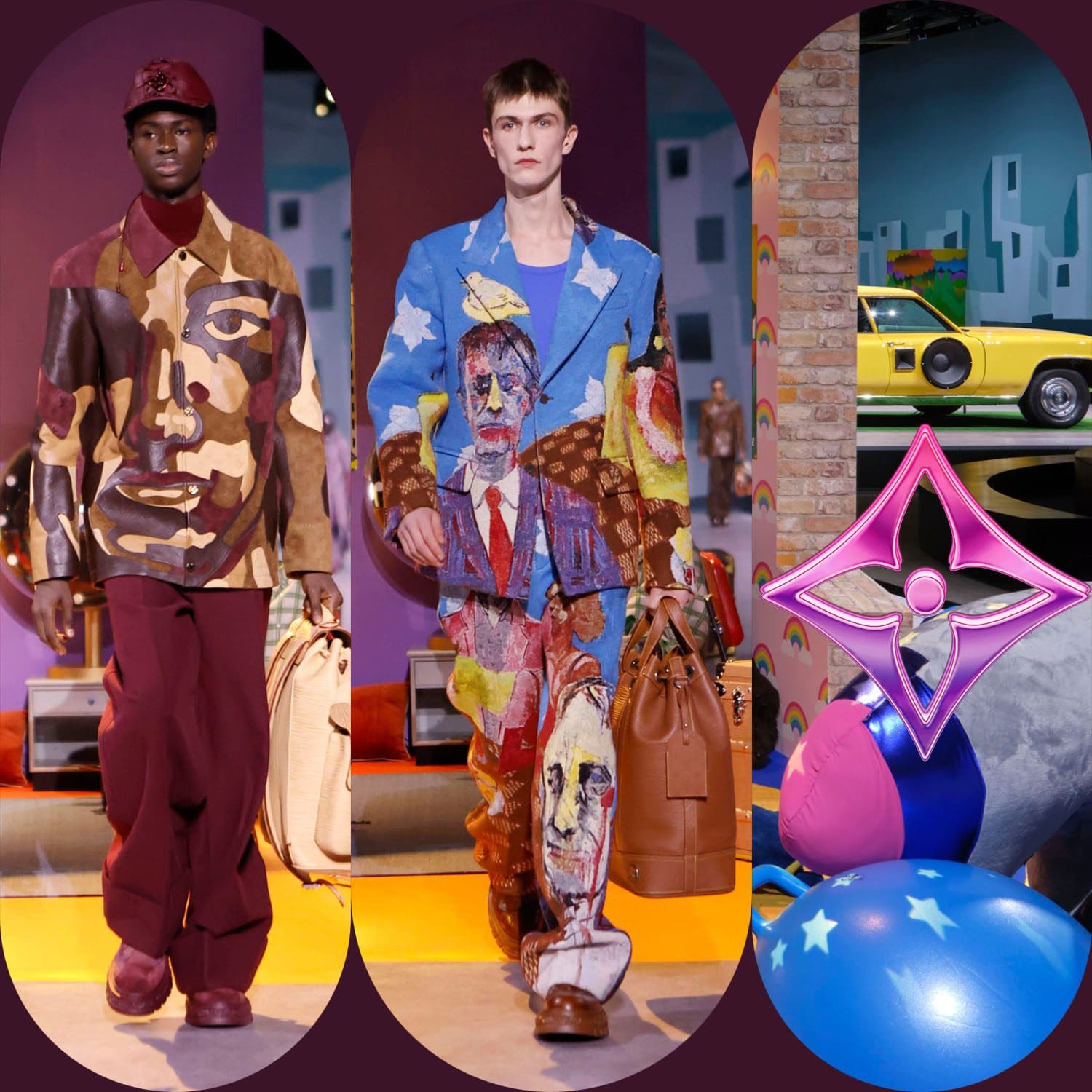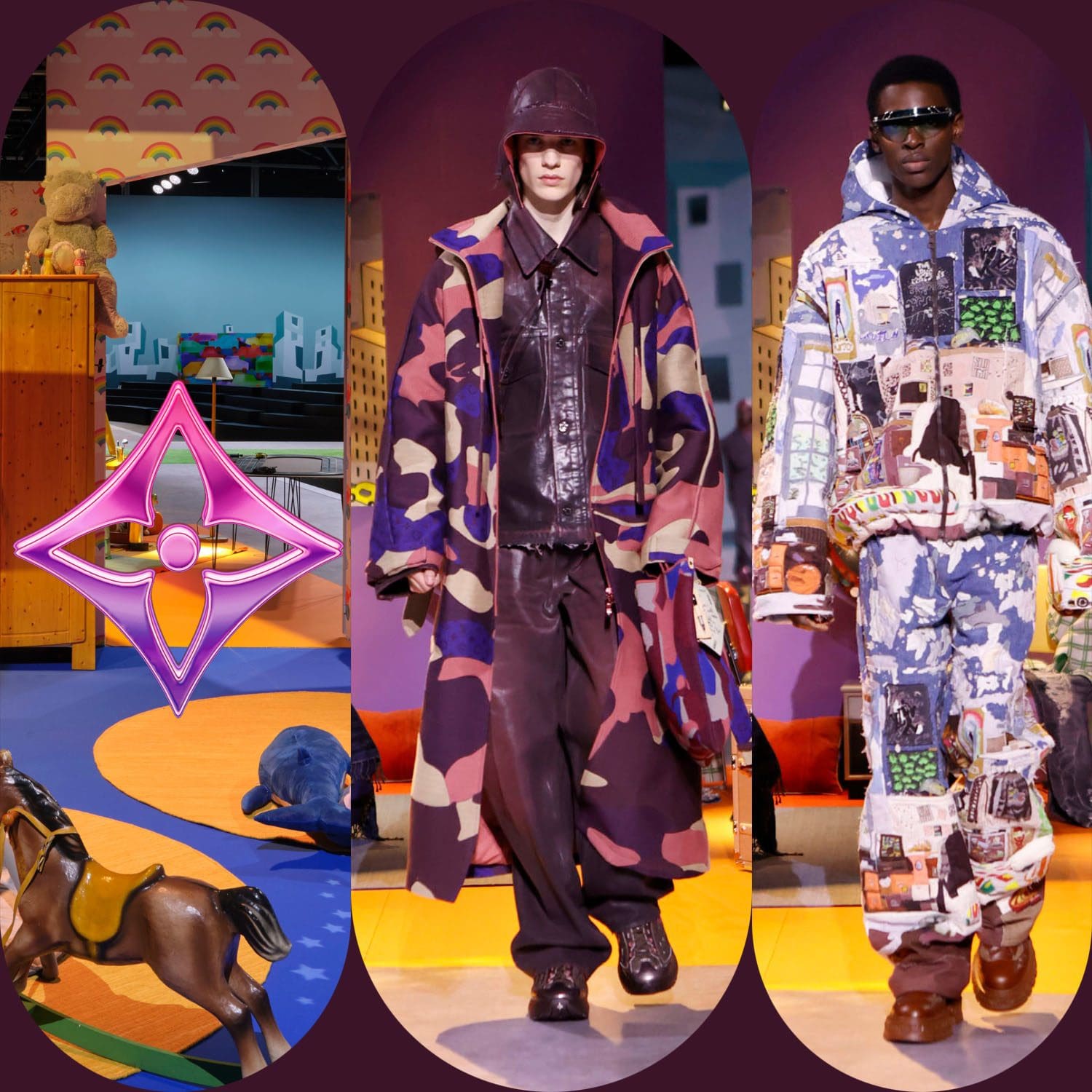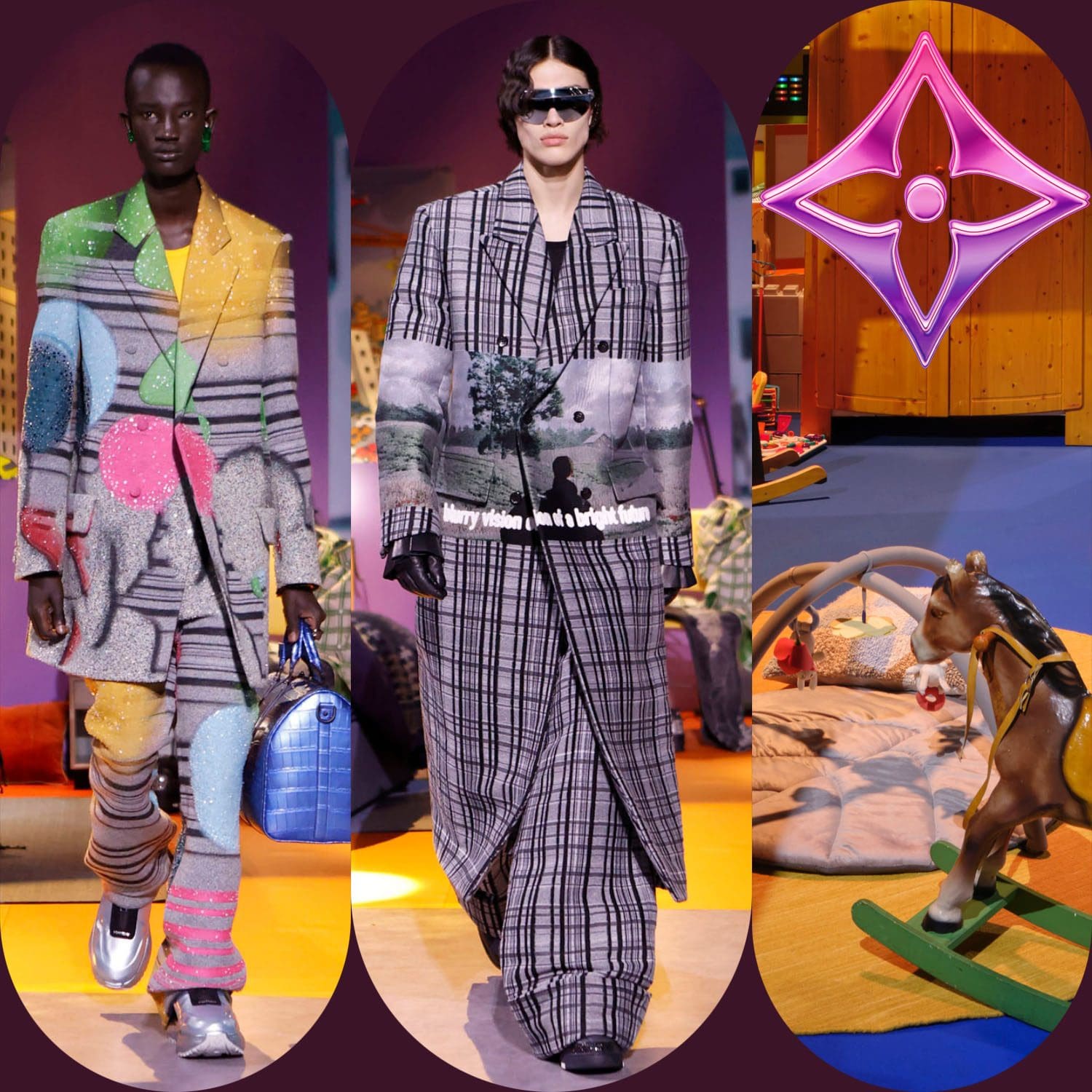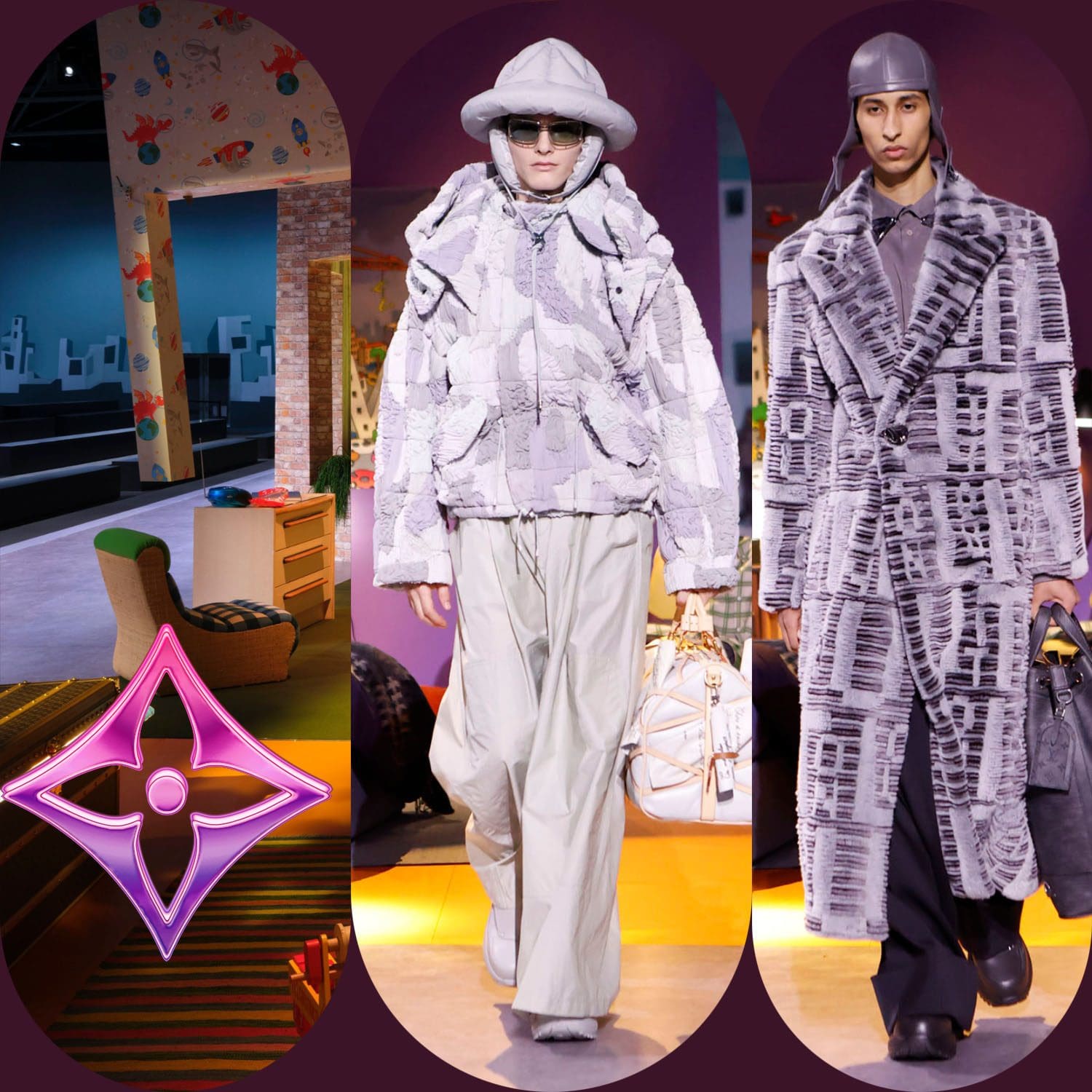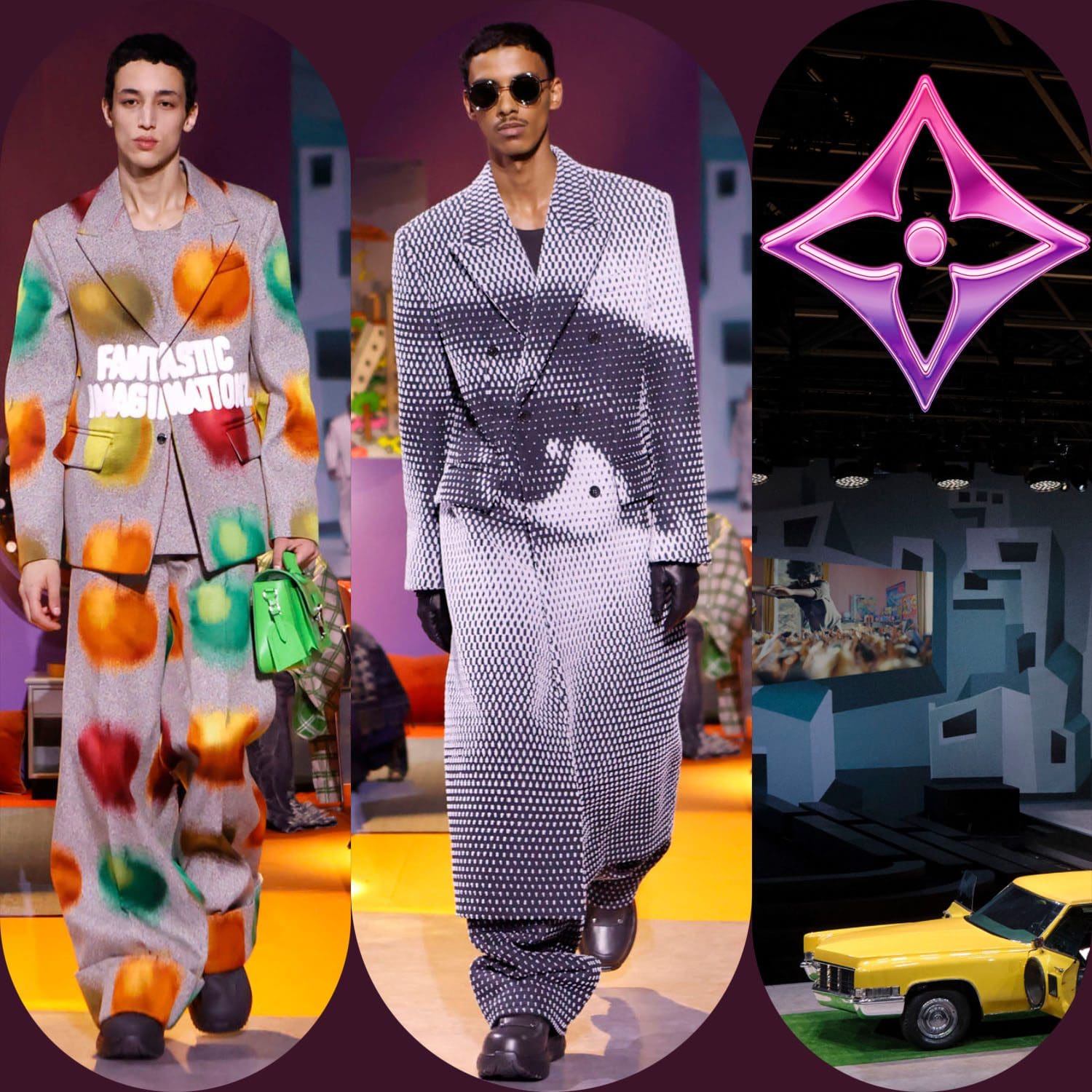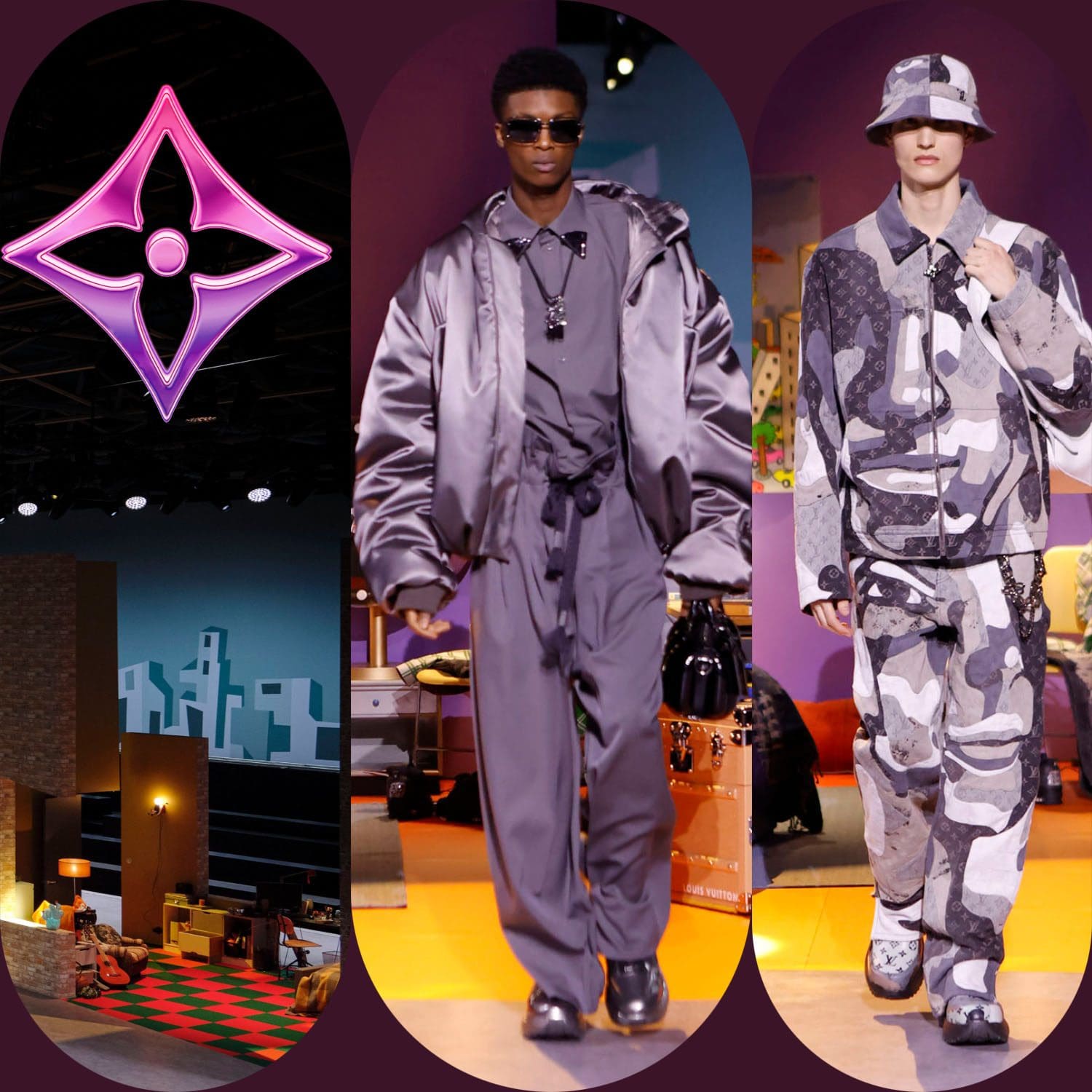 Press-release
Creative collective
Connectivity is the catalyst for creativity. Louis Vuitton is driven by a community of creatives, whose individualities, talents and experiences converge in the ongoing artistic dialogues that unfold on its runways. The Fall-Winter 2023 Men's Collection builds on this foundation in the curation of a creative collective. Designed by the Louis Vuitton Studio Prêt-à-Porter Homme, the collection is embedded with the ideas and concepts of the American designer Colm Dillane, while the show design and its cinematic prelude are directed by the French filmmakers Michel Gondry and Olivier Gondry. They enter into a conversation with the Sierra Leonean stylist Ibrahim Kamara and the Ukrainian creative director Lina Kutsovskaya, both longtime collaborators of the Maison. Joined by the Spanish singer Rosalía, who serves as musical curator and performs during the show, the band of creatives activate a connectivity founded in the cornerstones of the Louis Vuitton Studio Prêt-à-Porter Homme: the belief that the pillars of Louis Vuitton – creatorship, craftsmanship and showmanship – have the power to move, connect and unite its audiences around the globe.
Growing up
Unity is forged by familiarity. At the heart of the Fall-Winter 2023 Men's Show is the most relatable story told: growing up. Historically entrenched in the artistic genetics of the Louis Vuitton Studio Prêt-à-Porter Homme, the rites of passage from childhood to adolescence and adulthood are circumstances that connect us all. In the Cour Carrée du Louvre, Michel Gondry and Olivier Gondry construct a house of ages in which a boy's first stages of life unfold. Room by room, the formative moments of our upbringing – from the monumental to the everyday – play out in familiar scenes scored by a live musical curation by Rosalía. They are imbued with memories from the Gondry brothers' own childhoods: the bedroom they shared growing up, the excitement of decorating it, and the wallpaper they covered in doodles before it was replaced. Captured in a cinematic prelude that opens the show, their story culminates in adulthood shaped by the memories and experiences of the early stages of life, and the inner child that remains eternally present.
Louis Lifewear
Connected by their shared experiences – from the commonplace to the life-changing – the Louis Vuitton Studio Prêt-à-Porter Homme detects in the formative premise of the collection the adolescent feeling of wanting, or sometimes having, to grow up fast. The experience – re-evoked whenever momentous events happen later in life – materializes in a mock-mature tailoring silhouette reminiscent of a young man's idea of paternal masculinity. Loosely founded in the Studio's own mostly millennial memories of that look, it cuts a boxy yet fluid line likewise projected in work- and sportswear: a traditionally 'manly' shape imbued with the spirit of the inner child. The garments are adorned in abstracted impressions of the checks that epitomize the adult sartorial look, some computerized as if seen through the 1990s lens of the first digital-generation teenagers. The idea evolves in out of focus screen shots emblazoned all over garments, a figurative notion echoed in generationally relatable written-word sentiments: 'blurry vision of a bright future' and 'FANTASTIC FUTURE?'
Blurry vision
As members of the first generation raised on super-connectivity, the Louis Vuitton Studio Prêt-à-Porter Homme investigates and evaluates the impact of the digital age. The thoughts are reflected in motifs, techniques and fabrications across tailoring, workwear and outerwear which reference TV, film, cyberspace, screens and cameras. It manifests in illusory designs such as a crypto pattern that resembles encrypted coding, in a hallucinatory TV embroidery made with pearls and sequins, or an apple TV motif with indistinct pixelated renderings of the fruit surrounded by white noise. Suits and denim are encoded with a highly textured fil-chenille that forms a blown-up image of an eye only visible through a camera lens. Blurry images interpreted in jacquard evoke the impression of movement too fast to be captured on camera. Graphics on leather recall the posters of Old Hollywood while landscapes from imaginary movie scenes are crafted in jacquards with subtitles in fil-coupé.
Digital footprints
The collection's focus on the computerized generation and human connection triggers an idea of the imprints we leave in life: the impact we have on the people around us and the evidence – whether digital, physical or emotional – that documents the existence of our character and influence. Next to the collection's computerized motifs, the study manifests in suits, bags and handkerchiefs created with Colm Dillane, structured from fragments of leather printed with scans of real letters written by members of the Studio in the multitude of languages of their nationalities. The notion of what remains is further interpreted in a knitted suit imagined with Colm Dillane, the yarns of which unravel stitch by stitch as it moves through Michel Gondry and Olivier Gondry's building of life, leaving behind a trace of documentation. Nods to the age of connectivity are further explored in camera bags that film their surroundings as they are carried down the runway.
Faces of life
Pareidolia is the willingness to see illusory faces in faceless objects and elements. A vital human stimuli, the impulse is implanted within our brains as a means of constantly searching for connectivity. Whether we're walking through a portrait gallery or scrolling through social media, few visuals have a greater effect on us than faces. Drawing on the collection's themes of collectivity and connectivity, the Louis Vuitton Studio Prêt-à-Porter Homme applies this theory to garments and accessories, projecting magnified eyes – the ultimate connection-maker – across tailoring and workwear. Created with Colm Dillane, camouflage constructed from patchwork reveals the contours of faces in a pareidolia applied to utility suits and jackets that also integrate the Maison's logo. Artworks of unidentified faces painted by the designer are turned into prints and adapted with abstract layers of Monogram in a suit, a coat, and on shoes and bags. Boyish and surreal, they draw a line to the sensibility portrayed by Michel Gondry and Olivier Gondry in the cinematic prelude and the orchestration of the show.
See all looks Louis Vuitton Fall 2023-2024 Menswear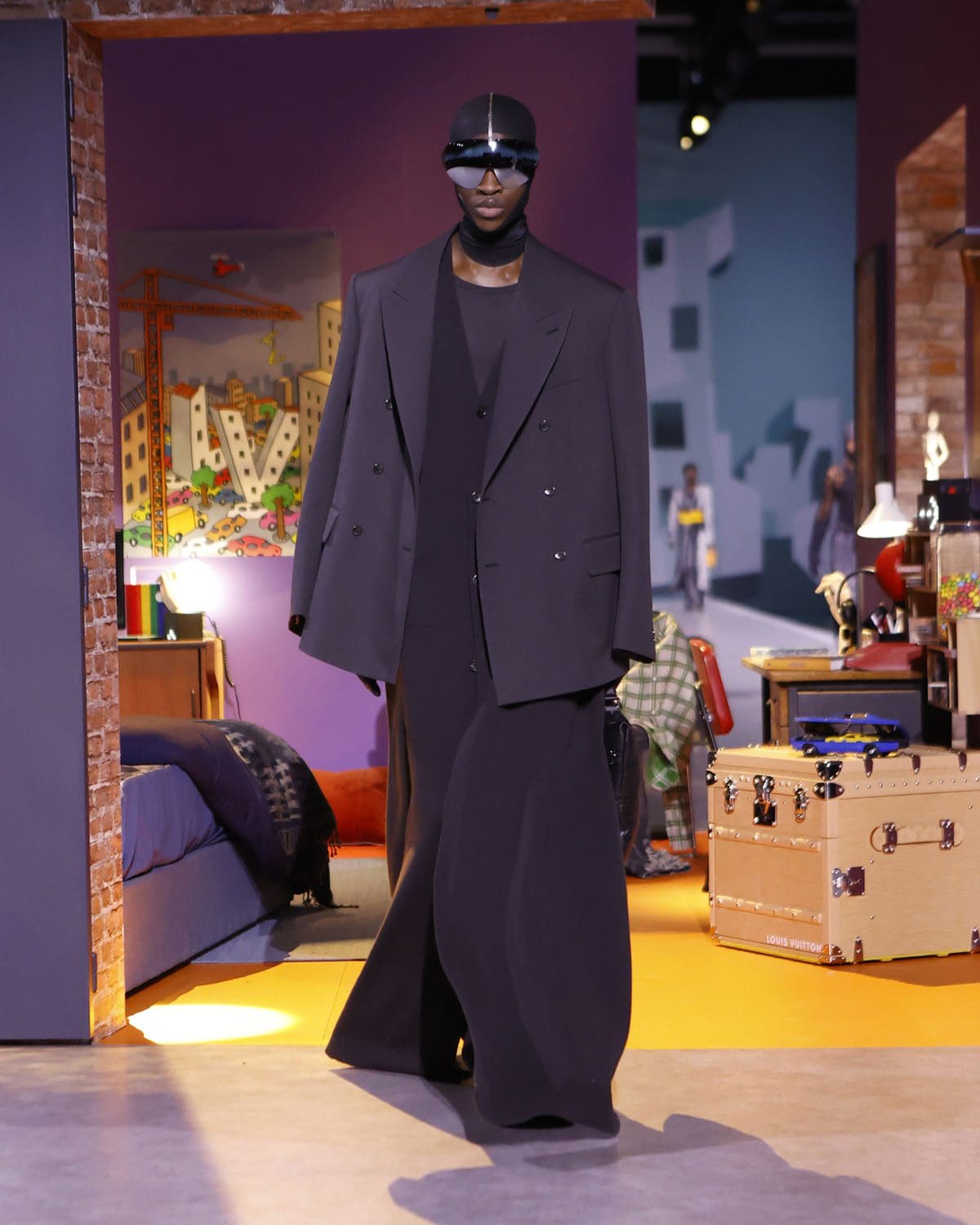 Posted from Paris, Le Marais, France.