Haute Couture Fall Winter 2021-2022 Trends. Review by Eleonora de Gray, Editor-in-Chief of RUNWAY MAGAZINE.
It has to be a happy ending, or happy beginning and getting back to "normal" social life after a year and a half of social distancing and digital shows. It has to be, but was it really?
Chambre Syndicale, the regulating commission, founded in 1868, which determines which brands are "true haute couture" removed members and added member, considering them as "true haute couture". So let's see who is in and who is out.
One thing to notice. The term "Haute Couture" used for the reference the designers who belong to French Fashion Federation, Fédération de la Haute Couture et de la Mode (FHCM), is no longer in use apart from specialized media. Even them, like Vogue for example, didn't use it in this season, limiting reference to the new collections "Couture".
And as follows, there's another thing to notice. Let's have a look at the calendar of Haute Couture fashion week Fall Winter 2021-2022 season.
Designers who are OUT
Who is missing? Chinese designer Guo Pei, invited guest, who presented absolutely fabulous artistic pieces, which today are exposed in many art museums in the world, traditional Tibet embroideries… you name it, the same designer who designed the gown for Chang'e, moon goddess from Netflix animation Over the Moon. Fédération de la Haute Couture et de la Mode considered that designer is no longer can be invited member and use title Haute Couture for not respecting certain rules imposed by Federation to all members.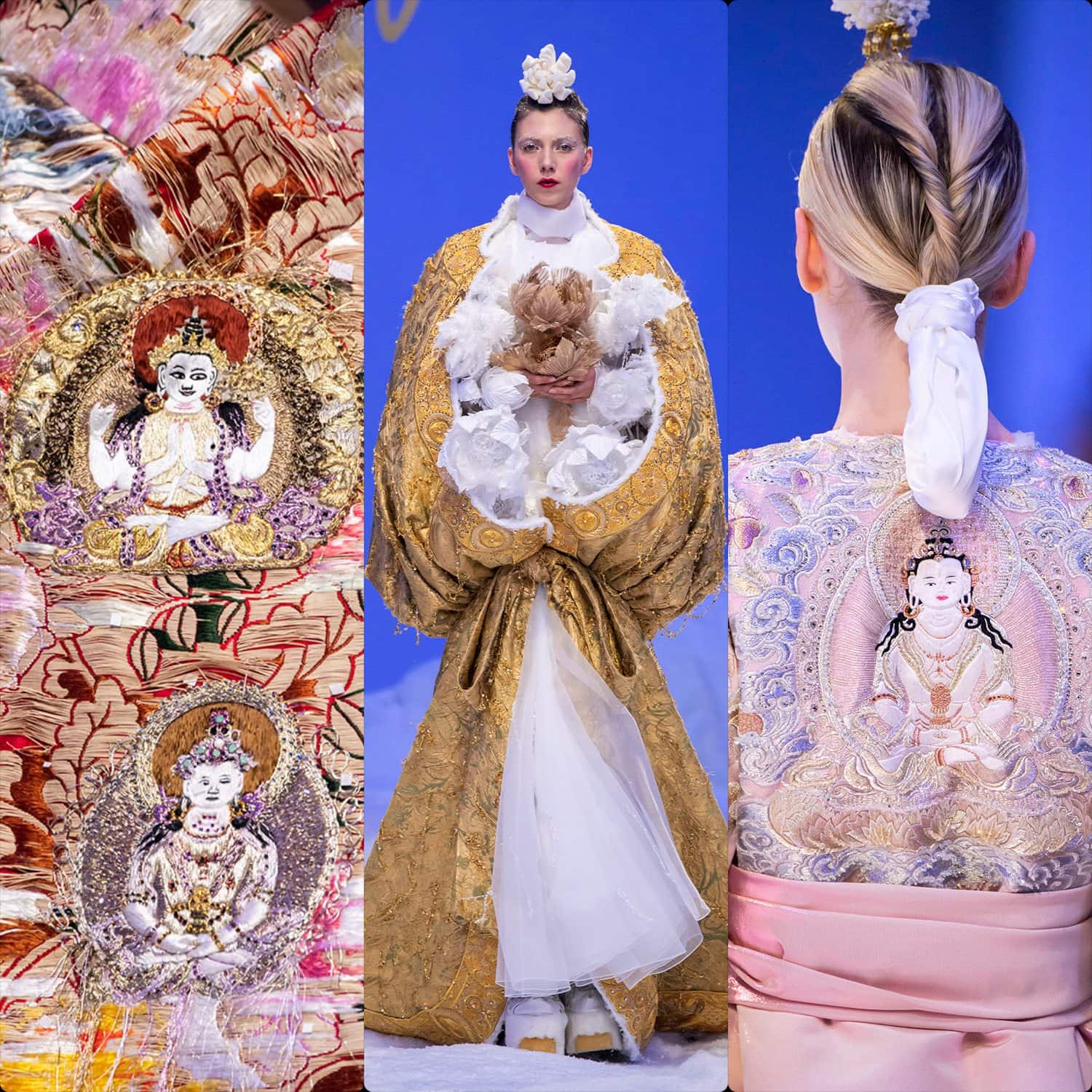 What rules? You may ask. Who knows, no additional details given to this statement. We know the basic rules of Haute Couture, opposed to applying designer: pieces should be handmade from the fine fabrics, embroideries should be handmade, atelier should be based in France. There are exceptions of course for the artists who show fabulous pieces, like Guo Pei or Pierpaolo Piccioli for Maison Valentino.
Maison Valentino has atelier in Paris France, and Haute Couture pieces specifically made in Paris. Not all Couture pieces of House Valentino made in Paris, some of them in Italy, but still many pieces made in Paris and shown all over the world. And yet…. House Valentino is no longer a member, and no longer shows at Haute Couture fashion week. Valentino showed new couture collection yesterday in Venice, a week later after official calendar was closed.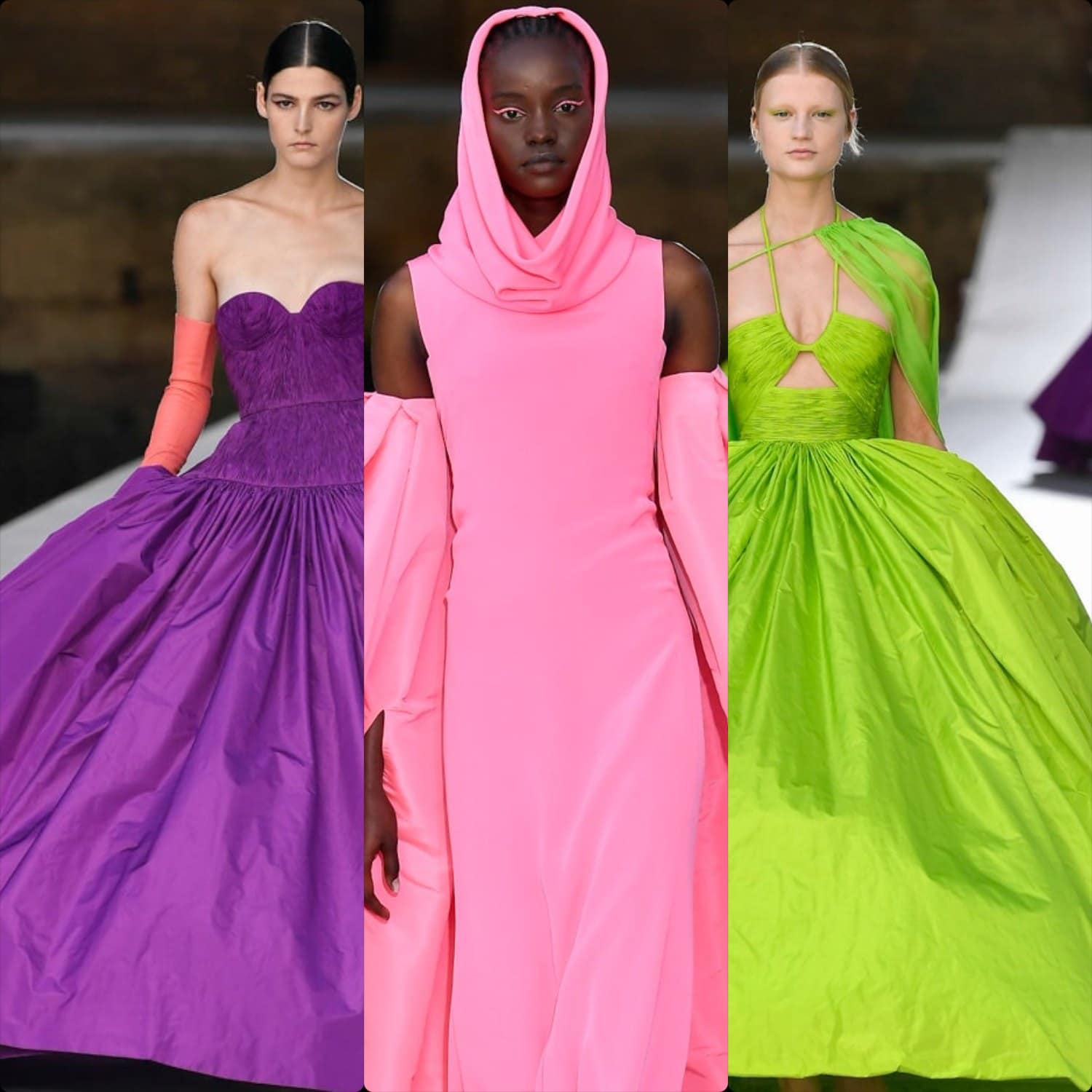 Designers who are IN
So Guo Pei and Valentino are OUT! Let's see who is in! We have a bunch of new emerging designers of course, which considered by Chambre Syndicale "very truly haute couture". Well, before inviting these designers the Federation should probably explain the concept of Haute Couture to them , to start with, as ti-shirts, sweatshirts and hoodies with stickers on them are not exactly the Haute Couture. The invited emerging designers started their collections 1-2 years ago, and definitely not grasping the concept. But apparently it is not important to Federation.
Charles de Vilmorin (French), Aelis Couture (Italian), Julie de Libran (French):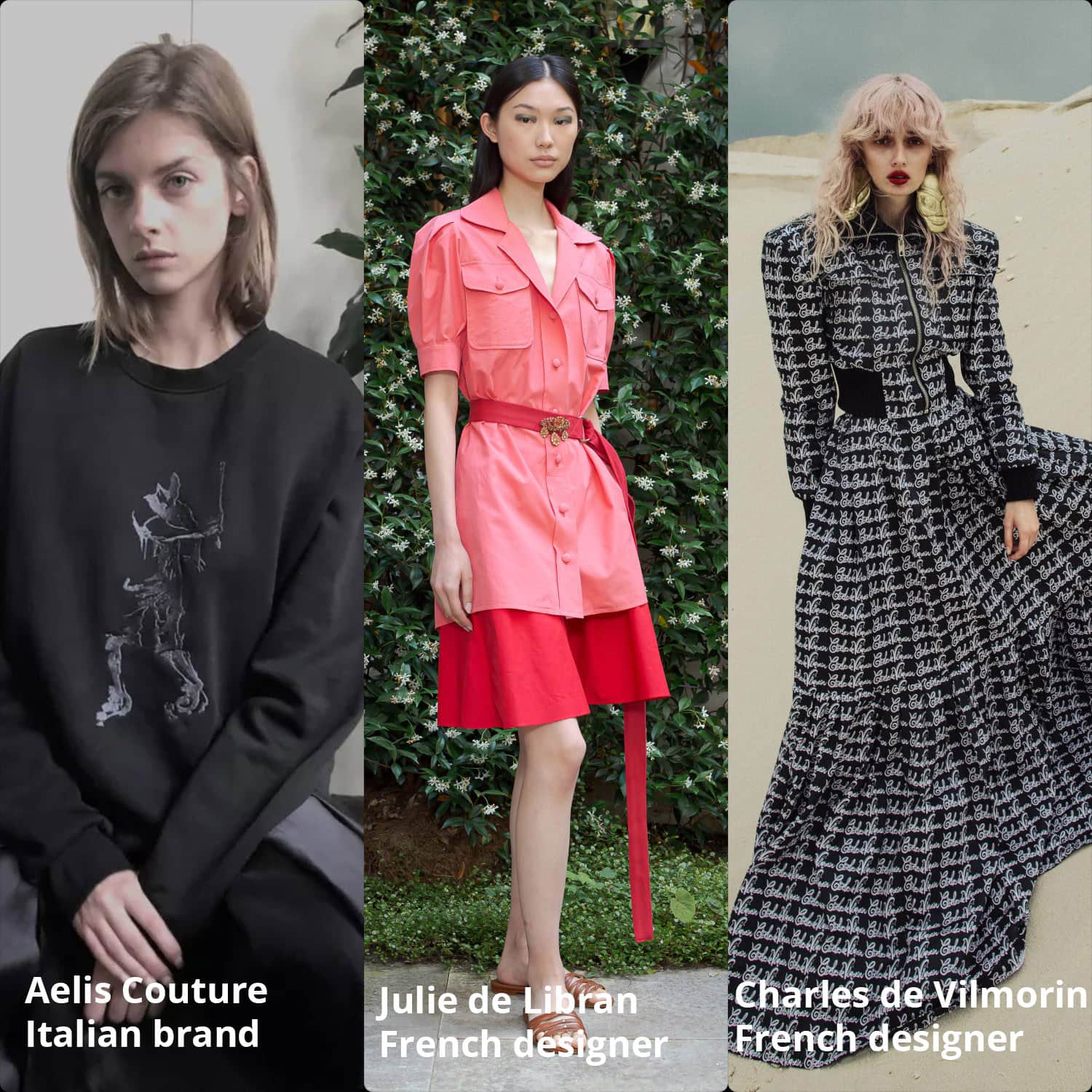 Ronald van der Kemp (Dutch), Imane Ayissi (Cameroonian), Vaishali S Couture (Indian):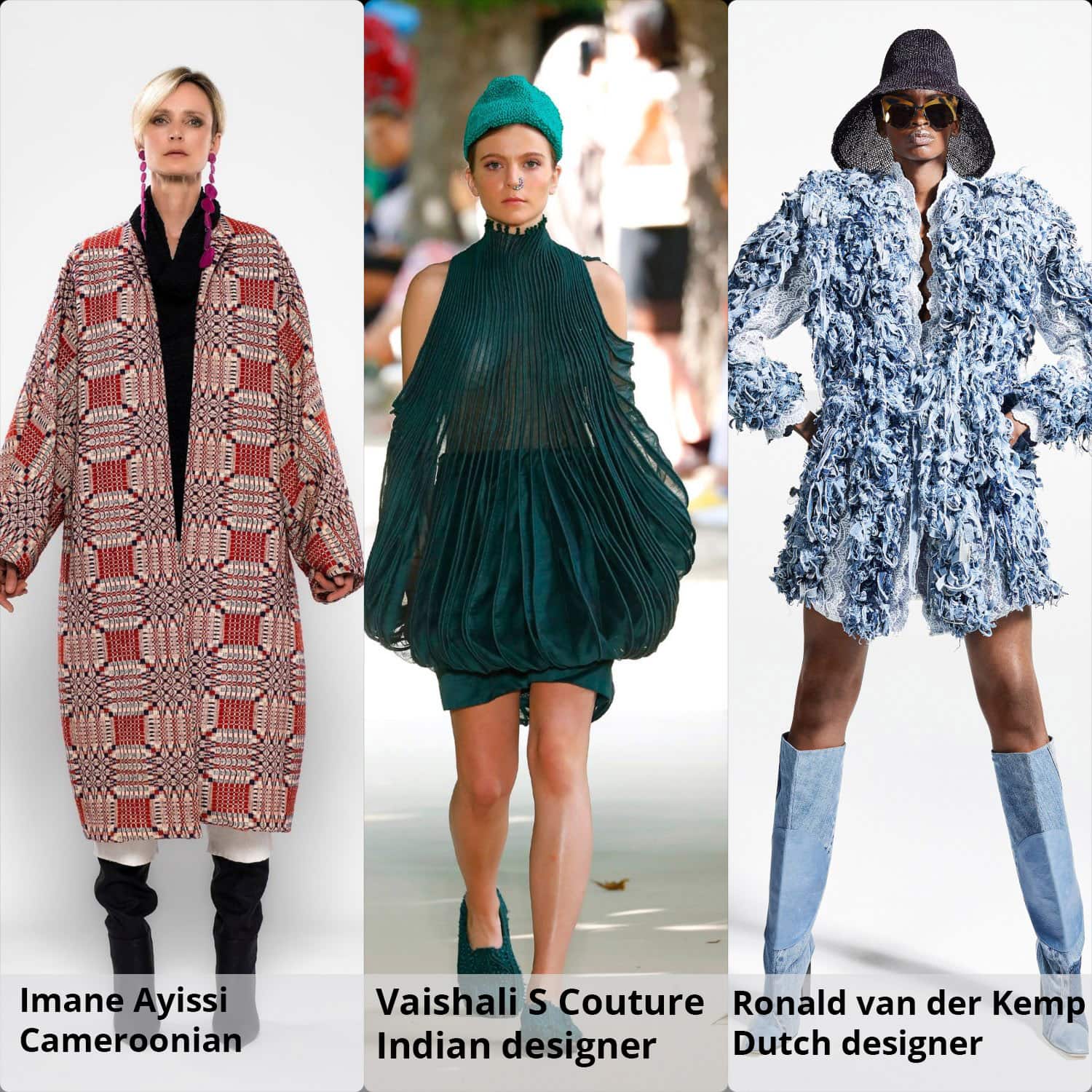 Let's hope that Federation is happy with the replacement and the choices for new members of Haute Couture. Oh yes, and for the "pièce de résistance" Federation made a special honor to 35 years old New York designer Kerby Jean-Raymond of Pyer Moss, and added 2 extra days, which never happened before, just for him to show.
And for the first time the designer was chosen for true Haute couture values – color of his skin, "Blacky, Blacky, Black" – like designer Kerby was singing at his show. I don't even want to open this can of warms, I'm just going to quote the press-release: "As the first Black designer to present on the couture calendar in the Chambre Syndicale's 150 year plus history, Jean-Raymond was poised for a monumental moment. Black Fashion Fair founder Bibby Gregory put it on Twitter, the man behind the brand, "Kerby [Jean-Raymond] isn't leaving any doors closed for the next generation of Black designers behind him".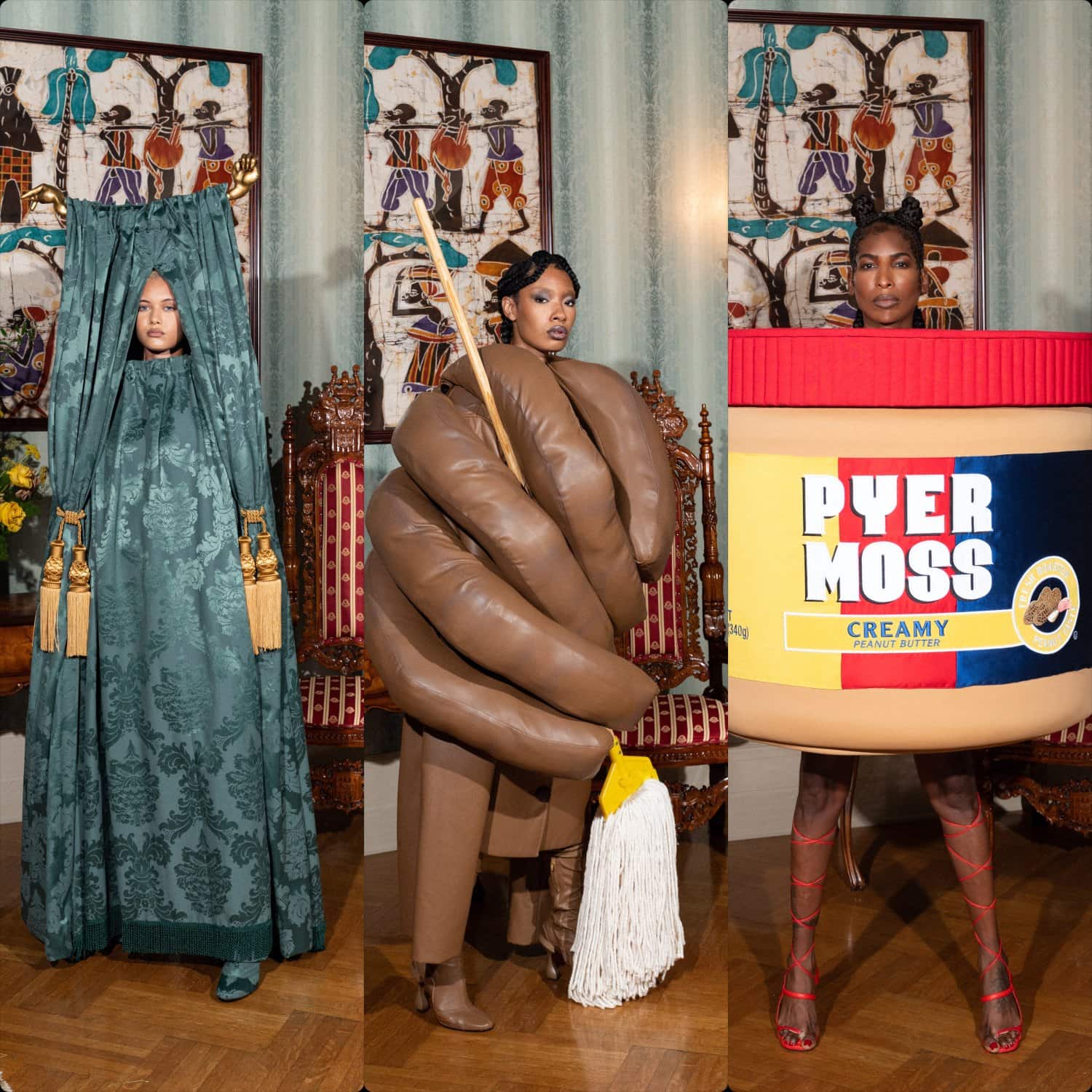 Apart from very Haute Couture message announced during the show "All power to Black people", the concept and models presented were also very Haute Couture. Reflection and designer's "exorcism" about pop-culture, kitsch known for the last 40 years. There are several designers who showed fabulous pieces and the ingenious design concepts, starting from Franco Moschino to Jeremy Scott, and Jean-Charles de Castelbajac. Although never before these designs were considered Haute Couture, or corresponded to Haute Couture values.
So what has been changed? Perhaps the answer is very simple – the values are gone, and today Federation accepts all designers from all over the world who are willing to pay membership fee, quiet expensive I might add. Perhaps that is why designers like Valentino and Guo Pei decided to leave as they have nothing to relate to. And that is also explains why term "Haute Couture" is no longer in use, and today any review refers to the designers and this fashion week as "Couture".
And that is why Balenciaga announced relaunch of Haute Couture line, as the house certainly found someone to dress now. It is still ready-to-wear, jeans and so on, but with hats.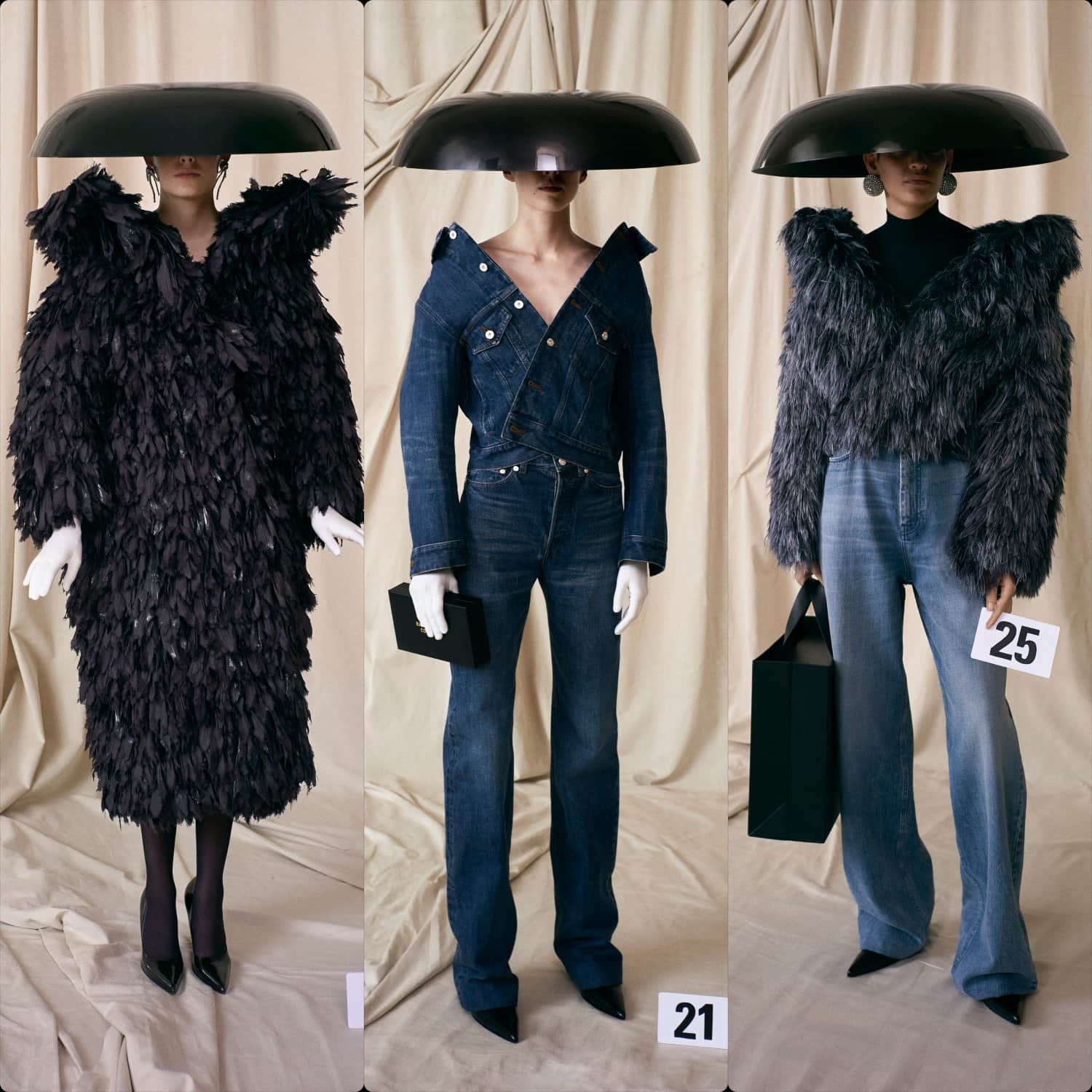 Haute Couture Fall Winter 2021-2022 trends
On the more positive note, you can still see the collections of the brands who are still follow in old fashion way the Haute Couture demands. Read our reviews about every collection:
See all Looks from Haute Couture Fall Winter 2021-2022 fashion week
Posted from Paris, Le Marais, France.